blog digest #11 /
this week seemed so long, yet nothing really got done... how does that work?
Was this the longest week in existence, or is it just me?? It was technically my first full work week of the new year, since I took last Friday off, so that's probably why my week drrrraaaaggggeeeedddd. By Wednesday I was desperate for the weekend.
I had a lot on my plate this week, though. Rowan has been sleeping better at night (thank God), but now I'm facing other challenges – like him being EVERYWHERE and getting into EVERYTHING! It also seems I have to fight with my insurance again, for the fourth time in a twelve-month span. Insurance is so effing aggravating. And I still desperately need to schedule a dentist appointment (because ever since I got fillings in June, it still hurts to bite down sometimes) and I also need to schedule a lady doctor appointment, so, yeah. Lots to do and I honestly don't want to do any of it. 

Yikes, I failed with blogging this week. I just wrote out a quick Top Ten Tuesday (new authors I read in 2018!) and had plans for some reviews, but… even though this was the longest week ever, I still wasn't able to write them. I wanted to write my reviews for Girls of Paper and Fire and Just for Clicks. I'll try better this week.
I'd also planned on moving my website over to adarkershadeofrosie.com, but that didn't pan out as planned. Maybe this week?

NEW
I got more books than I realized this week. Since I'm a Prime member, Amazon lets me choose a new Kindle book for free each month. But for January, I got to choose TWO! The books are pre-selected, but the two I got sounded cool: Smoke & Summons and The Snow Gypsy. And YES, I got The Gilded Wolves in my OwlCrate box today! Then, since it was so cheap, I bought Tower of Dawn for my Kindle so that I could read it on the go (because I need to read it still!)
READING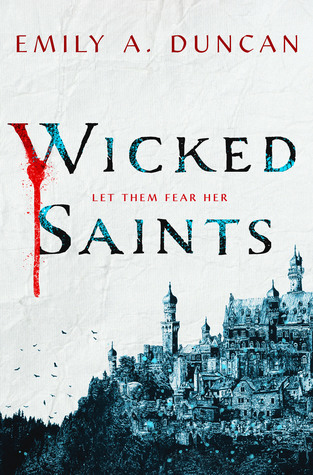 WICKED SAINTS (#1) by Emily A. Duncan • Still reading. Read to 14% last week. I'm still not sure about this book? I hope to get a good chunk read today though. More thoughts to come. (Goodreads)

All week, I've been rewatching Game of Thrones, season 1. I attempted to start bingeing season 2 yesterday, but then my boyfriend came in and hijacked the television to watch The Punisher season 2. He had made plans to go over to his friend's house and have a marathon, but instead, they just joined an Xbox party, lined up the episodes and virtually watched it together. I kind of paid attention, but I also watched our son, played Disney Crossy Road on my new Kindle Fire, typed up this blog post, and did various other things. We got to episode 10, so we essentially spent all day in front of the tv, hahaha.

I've been so good with managing my money recently, that I decided to blow off all of that hard work and buy a new Kindle Fire. It's so beautiful! My old Kindle is running slow and doesn't hold a charge the way it should, so I saw the Fire HD 10 on Amazon advertised to sell for 5 monthly payments, and was sold. It's big enough that, if I am connected to wifi elsewhere from home, I can even type up some blog posts on WordPress, too! Bonus. ✨ I've been unable to part with it for very long all week.
Like I talked about last time, Rowan had a rough time with teething last weekend. Thankfully, he's back to sleeping through the night. Occasionally, he'll boop us awake on the nose around five in the morning, but most of the time he's still asleep when I leave for work.
I've been giving him more and more solid foods for him to try. He's had some of his teething crackers and puffs, but also meals like shredded chicken, carrots and peas (see picture).
In other news, this weekend we were supposed to get an epic snowstorm… well, we did get snow, but I don't think it was what was predicted. We are, however, under a Level 2 Snow Emergency today, but it'll probably be back to normal by tomorrow morning (darn).
I've decided to include this little tidbit at the end of my weekly digests, and use it to hopefully find new friends and open up more dialogue between us! This meme is brought to you by Coffee Addicted Writer, where I will be linking up!
Is there anything that drives you bonkers when reading a book and it makes you want to tell the author a thing or two?
MY ANSWER: So, a couple weeks ago I read a book where A LOT OF THINGS BOTHERED ME. And here are just a couple that came to mind when I saw this question: If an author takes you to a different part of the world (or even a fictional world), the setting has to be explained somewhat. I hate trying to figure out the lay of the land and it not being explained to me in any fashion. I am also a grammatical error Nazi, so when the book is so jacked up with errors, it makes my eyes bleed.
What did you do this weekend? What did you read or watch or listen to? Did you get snow at all where you're from? Talk to me in the comments!
I'm linking up my post to Stacking the Shelves and The Sunday Post!