blog digest #12 /
officially made the switch to adarkershadeofrosie.com, and rowan is sleeping in his pack 'n play at night!
So, apparently all I do on this blog anymore is blog digests… I require more hours in a day, dear universe… So if you could make that happen, that'd be swell…
This week was drastically better, and my mental state is better after it was shaken a bit last week. I managed to get my insurance in check, after being beyond frustrated with them, and as far as work went, we were low low low in numbers all week, and it was a nice break from a full class. Friday, we had a total of three babies in our room and I got to go into work late to do a split shift. Because of that, I got to enjoy a nice Bob Evans breakfast with my momma before I went in!
Monday is the only day I went to the gym (CRAP), because every other morning I woke up just too tired to move. I don't know why??? I really must kick my butt into gear and start going the 3x a week like I resolved to do for 2019, because WE BOOKED A RESORT FOR OUR VACATION IN APRIL!!! We've had this organized since the beginning of the month, but I finally got Isaac to focus and help me pick a place for us to stay. We'll be headed to Myrtle Beach the first week in April, and stay for 4 nights, and the in-laws will be joining us! April 2017 was the last time I was at the beach, and this will be Rowan's first time seeing the big blue (and probably eating a few fistfuls of sand) so I'm ecstatic!
Rowan has finally reached the point where he has outgrown sleeping in our bed with us. Monday night was the last straw for me, since he is now constantly rolling and smacking me in the face (RUDE) and pushing me to the very brink of falling out of my own bed… So Tuesday night was the first night he slept in his pack n' play, and this little rockstar slept all night by himself! Every night since then has given us the same results, and we're super happy. (I can now cuddle my boyfriend again at night!)
Last but not least, my blog is officially at adarkershadeofrosie.com! Until September, when my rosieoverstreet.com domain expires, it will still lead you to my new url, but it feels so good knowing my blog has finally has a home. And I feel like the dumbest person ever??? I've been Googling how to easily transfer one blog domain to the next, and it was a simple as switching my Managed WordPress with GoDaddy from one domain to another. It was so simple. And I've been putting this off for weeks because I thought it was going to be a long, grueling, complicated process. I'm so happy it wasn't.
It was definitely a failed blogging week. My last post was last weekend's Blog Digest, so. Yeah.
NEW

Circle of Shadows (via Scribbler subscription box) and The Gilded Wolves (via OwlCrate subscription box).
READING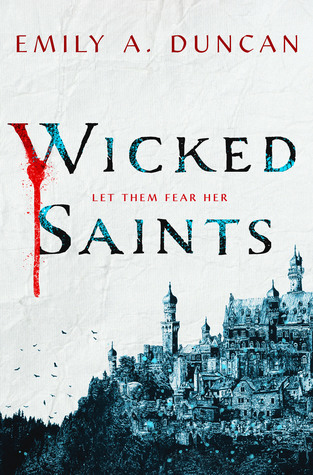 WICKED SAINTS (#1) by Emily A. Duncan • Still reading. Read to 29% last week. Guys, I still don't know? It's getting a bit more interesting? Can anyone whose read it tell me it'll get better, or that it's worth it and I've just got to push through? (Goodreads)
Game of Thrones, season 2. I've continued re-watching one of my favorite series in anticipation of the final season airing this April. I watched the first four episodes.
The Punisher, season 2. Last weekend, the boyfriend and I binged most of the second season in a single day, and then over the course of this past week, we watched the final episodes. It was a satisfying ending, for sure.
Bohemian Rhapsody. My boyfriend and I say down to watch this one night, but since I was so tired, I fell asleep somewhere in the middle. We picked it back up a couple of nights later, and I just have to say that Rami Malek made an excellent Freddie Mercury! It was a good movie.
I've decided to include this little tidbit at the end of my weekly digests, and use it to hopefully find new friends and open up more dialogue between us! This meme is brought to you by Coffee Addicted Writer, where I will be linking up!
How many books did you read last year? Will your goal be to match that number or surpass it?
MY ANSWER: Last year, I read a grand total of 14 books… and three of them were audiobooks! My goal for 2019 is to surpass it, most definitely.
Tonight, I'm having my first ever "Reading Party" where I'm having a handful of friends over and we're all going to read our books in a silent group, and then discuss what's going on in our books after an hour or so of reading. I'm pumped! And this Wednesday, I have the day off and my boyfriend and I are anticipating going tubing, so I hope that works out. I am also making plans, here and now, to go to the gym Monday, Thursday and Friday this week! I've been enjoying swimming, so I am going to swim for at least 30 minutes for three days.
Blog-wise, still keep an eye out for those reviews I've been trying to write for like, two weeks! I need to review Girls of Paper and Fire and Just for Clicks still. And one of my new years' resolutions was to reviews books ASAP, and I'm already struggling with that! Another thing I haven't done in a while is do an OwlCrate unboxing, so that's on my agenda for next week.
Swim for 30 minutes at the gym MThF
Review Girls of Paper and Fire
Review Just for Clicks
OwlCrate unboxing post
How was your week/weekend? What have you been reading? Can you tell me that Wicked Saints is worth it? Should I keep reading? How many books did you read in 2018? Start a conversation with me in the comments!
I'm linking up my post to Stacking the Shelves and The Sunday Post!