blog digest #13 /
everyone is sick and it's freezing... yay, winter...
I'm super disappointed that the days have NOT been made longer since my complaining about them being too short last week. Why must there be two thousand three hundred and nineteen things to do in a day, but we only have (at the most) seventeen hours to complete them all, because for some obnoxious reason, humans have to sleep??? Also, eight of those hours must be spent working, so we have nine leftover hours… NINE.
UGH. This week (pretty much right after Sunday began, around twelve thirty in the morning) was off to a horrible start before it even had a chance. I was nauseous when heading to bed Saturday evening, and then woke up a half hour after midnight, throwing up! It happened again shortly after 4 AM, and then all day Sunday I was committed to not moving a muscle and lounging on the couch as much as possible. Monday I was faring much better, but by the time lunchtime came around I was feeling sick again. I was able to head home a half hour early, and did not make a single stop until I collided with my bed in hopes of taking a nap and waking up feeling refreshed again. Luckily, I did. 
The rest of the week was chill~ (Literally). We had freezing temps mixed with high winds that made it feel like it was -30°! The coldest day was on Wednesday, and I just so happened to have that day off! My boyfriend and I had made plans to go tubing, buuuut it's safe to say that we cancelled those plans. The weathermen stated that if you were outside any longer than 10 minutes with any exposed skin, you were gonna walk away with some gnarly frostbite that day. No thanks! We stayed inside!
My preschool actually had a two-hour delay on Friday, as well! Everyone went it at 9 AM. (Which is the time I start work anyway, so it didn't really affect me…except for the fact that the whole parking lot was jam-packed and I was actually late clocking in because I couldn't find a spot to park…) And we only ended up having a class of three because of it, so the day basically dragged.
The weekend was welcomed with arms wide open! But unfortunately, it was another weekend consisting of teething, fevers, and vom (not from me this time, from my boyfriend). My son, who usually is cheerful and gives smile away freely, was not a very happy camper on Saturday. It was next to impossible to get him to smile. He slept a lot on Friday and Saturday, and would not eat his food or even his bottles very well. He was a bit crabby, and extremely emotional. I think those top teeth are about to make their breakthrough!
In other news, KINGDOM HEARTS III IS MINE ALL MINE! Isaac downloaded it on Tuesday and started playing it without me – can you say RUDE? We've been tag-teaming the game since Tuesday night, played all day Wednesday, and I even started up my own game so that I could play the Olympus world myself. Do you realize how long I've been waiting for this game? But I've come to realize that the whole story line is BEYOND confusing, since the only games I've played are 1 & 2. I'm doing some research to help me get up to speed.
---
Last Week's Goals
Swim for 30 minutes at the gym MThF: ✘
Review Girls of Paper and Fire: ✘
Review Just for Clicks: ✘
OwlCrate unboxing post: ✘
Wow. Not a single goal reached this week. Shame.
I may not have gotten my reviews of Girls of Paper and Fire and Just for Clicks out, or the OwlCrate unboxing, or anything else at all… but I wanted to share all of the new books I added to my Goodreads TBR. ? Literally the last thing I need, right? More books to read! Yowza, I need to get my priorities straight, don't I? My self-control just goes out the window when I'm on Goodreads! I'm sure you can relate.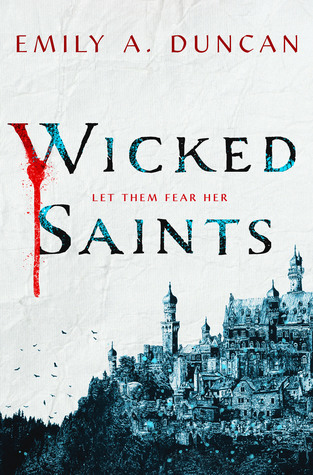 WICKED SAINTS (#1) by Emily A. Duncan • Still reading. Read to 67% last week. Finally finally finally I'm starting to feel more interested in this story line. Despite being thrown into action within the first couple of pages, it was super hard for me to be invested in the story. The way they do magic was just weird to me, but now that the story is getting juicier, it's getting easier to read. (Add to Goodreads)
HARRY POTTER AND THE GOBLET OF FIRE (Audiobook) read by Jim Dale • Started. Listened to 8% last week. I've been putting these audiobooks off for a bit, so I decided it was time to start them back up. Besides, I have nothing better to listen to on my way to work now! (Add to Goodreads)
Game of Thrones, season 2. I only watched one more episode, so I'm now halfway through the season. I didn't watch much of anything this week because of Kingdom Hearts III!
I've decided to include this little tidbit at the end of my weekly digests, and use it to hopefully find new friends and open up more dialogue between us! This meme is brought to you by Coffee Addicted Writer, where I will be linking up!
Audiobooks vs. eBooks? If the world stopped printing books, which of the two would you prefer?
MY ANSWER: I've only just recently started getting back into audiobooks, and I've only been listening to Harry Potter for a couple months. It's hard for me to listen to a book that I haven't read already. I just bought a new Kindle, and I really like filling it with all sorts of eBooks, so I think if I had to pick between a digital read and listening to a book, I'd have to choose eBooks! It's cool to carry more than one book on a digital device.
If anything, I want to make sure I finish reading Wicked Saints this week because I feel like it's just been dragged on and on and on and on. I need to make sure I start my January book I picked for the Backlist Project, because, uh, its February and I haven't even started it! Oy.
Last week, I didn't even make it to the gym once, let alone three times. Being sick really took a lot out of me for the first couple of days of the week, and then the cold weather hindered me from going outside any earlier than I had to. Now this week is supposed to be high 40's and low 50's (what the hell, Midwest?) so I'll be more tempted to leave the house.
To-Do
Swim for 30 minutes at the gym, MWF
Review Girls of Paper and Fire
Review Just for Clicks
Finish reading Wicked Saints
Top Ten Tuesday: Upcoming Releases I'm on the Fence About
Rosie's Infinite Playlist: January
Did you suffer from extremely cold temperatures where you live? What have you been reading, or watching lately? Tell me in the comments! ??????
I'm linking up my post to The Sunday Post!