Sunday, September 1, 2019
Happy weekend, friends! (And it's a long weekend, woo!) I've been using my extra time at home to write posts, and it feels so good! 
This week was still a bit stressful, but paler in comparison to the week before. I'm just trying to take each day in stride. It helped that I only worked a four-day week, too, because I took Friday off. Rowan didn't get up until 9am, and we had a quick breakfast before we headed out to the city's splash pad park. It was nearly empty since it was a Friday morning. We played in the water for a little bit, and then Rowan bit the dust trying to run in his baby flip flops… we did not have much fun after that, hahaaa.
Watch out, guys… I figured out how to make GIFs!!! Anyway, he kept running away from the splash pad, and would cry and fall to the ground when I tried to bring him back. ?
Never fear, an animal cracker break made it better.
This Labor Day weekend, we have our little annual fair going on in my small hometown, and we took Rowan last night. They had a parade – where he seemed to enjoy picking up candy and things off the street and putting them in his goodie bag, but he didn't enjoy so much that I forced him to hold my hand while we were out in the street ? – and after he took not one, but two naps, we went to the fairgrounds and ate some yummy bourbon chicken and rice and got lemonade shake-ups. Mmm. We walked all day because our house is within a mile of the fairgrounds (and I even went to the gym for a bit while Rowan was napping), so I walked over 13k steps yesterday! 
I thoroughly enjoy that last picture of him… lounging in his elephant chair, play tools in hand, while he watches a favorite cartoon. ?
I'm pretty excited about getting approved for Ruthless Gods. If you may recall, I was very on the fence about continuing with Wicked Saints for the longest time. It took me forever to read! But towards the end, I started feeling so attached to the characters and the story way too much, and I ended up giving it 4 stars. (At the halfway point, I wasn't sure if it was going to get 3 or 2.) I'm excited to
And I finished Harry Potter and the Order of the Phoenix, so it's time to make my way through book six! I had some credits on Audible, so it was time to finally purchase this one. I've told you guys before, but I'll say it again… Order of the Phoenix is the furthest I've read of the Harry Potter series. And I actually stopped reading book 5 a few chapters before it ended. I remember reading about Sirius's death, and I quit. I never finished the series. ? I have seen all the movies, though, but only once with movies 5 – 8. I've seen the first four movies multiple times each! My friend is borrowing them, but when I get them back, I'm having a marathon with me, myself and I.
Check out what I posted this week! ?
• SORCERY OF THORNS FINISHED ★★★★★ ASDFGHJKL. When I was about 75% through the book, I knew I was gonna be excruciatingly sad when the book ended. I also kept asking myself, "How is this going to be resolved in the short amount of pages I've got left?" I just love Elisabeth, Nathaniel and Silas so so so much. Gah, what a great book! (Goodreads)
• HARRY POTTER AND THE ORDER OF THE PHOENIX (AUDIOBOOK) FINISHED ★★★★★ Well, I did it guys. I finished the book that I stopped reading at least 15 years ago. Wow. Firstly, Umbridge is the worst, but I feel like Harry isn't faring much better, in my opinion… He's getting really hard to tolerate sometimes. But let me just say that I empathized when Sirius fell behind the veil. Ouch. This was a BIG book, but it was good. I would say a little bit better than Goblet of Fire, but it still doesn't hold a torch to the first three for me. Nevertheless, five stars because I just love this series (especially the audio versions) so much! (Goodreads)
✨ I'm starting Four Dead Queens today!
I've finally started The Handmaid's Tale, after saying 'I'll start it one day' for about, like, a year now. Guys, this show is brutal! I find myself saying "WTF" at least every two minutes. I know as a woman, I feel violated just watching the show. Interested to see how some of you guys out there feel when watching it. I'm only four episode in, and I can tell Serena Joy is going to be a problem for me.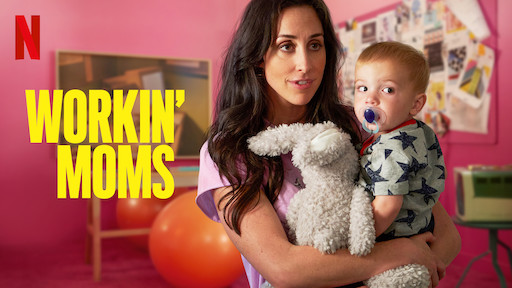 I also finished the entirety of season 3 of Workin' Moms! HAVE YOU SEEN THIS SHOW? It's hilarious, it's raw, it's real, and it's brilliant. God, I can't effing stand Jenny, though, lol. I'm so glad they included Val in more of this season, because she's so awkward and funny. Anne and Kate are definitely my favorites. Then there's Mike. ? Dude, I dunno what Kate is gonna do, and the cliffhanger made me want to cry from frustration. I'm going through show-withdrawal already, and season 4 isn't airing until winter 2020. (And who know how much longer after that it'll be on Netflix since it's a Canadian show…)
This week will be another four-day work week because of Labor Day *fist pump* so I'm pretty excited about that. Here's some goals I'm hoping to accomplish.
Exercise at the gym 3 times this week.
Read a good portion of Four Dead Queens.
Start listening to Harry Potter and the Half Blood Prince.
Declutter my house a bit.
---
Have you added any new books to your shelves? What did you read this week? Have you watched The Handmaid's Tale or Workin' Moms?