Saturday, February 16, 2019
It's been forever and a day since I did an OwlCrate unboxing (in truth, my last one was November's box), but that is just not. okay. The last two boxes were simply wonderful, and I got books like The Gilded Wolves and Amber & Dusk. (No, I haven't read them yet. Eek.)
OwlCrate has been one of the best bookish decisions I've made in the past half year. (Other than starting a blog, of course!) I enjoy all of the little trinkets and goodies that each box delivers. And this month's box was titled Whimsical Beasts, and what a fun theme it was!
---
February OwlCrate: Whimsical Beasts
Unboxings are so delightful!
The box arrived TODAY, and since I had no other engagements for the afternoon, it was a perfect unboxing post kind of day. And when I picked it up from outside (or, rather, my boyfriend flung it inside as he departed for the gym ?), my son was just getting ready to go down for a nap. Perfect time for picture taking!
So open it, I did, and let me show you what I found!
---
The Keychain

This pretty keychain that was included was inspired by the movie Spirited Away (which I regret to say I haven't seen yet, and I adore Studio Ghibli movies). This was designed exclusively by Four Seasons Fox.

The Beanie

This hat is pure perfection. It's purple (my favorite color), it has unicorns, and it's Harry Potter-related because it says ACCIO BOOKS! I literally cannot wait to show this bad boy off among my HP-loving comrades.

The Umbrella

What a perfect addition in the box! And what's more, after some studying, it is also Harry Potter-themed! It features many of the beloved creatures and beasts from the Harry Potter series! I see Buckbeak, Fluffy, and Dobby, to name a few.

The Soap

Pixie Dust gem soap! It's a pretty emerald green, and it makes me want to fly off to Neverland!

The Enamel Pin

Yesss, I'm now a part of the phoenix rider club… now I just need a phoenix! Er… where do I get one of those again? This will be lovely on the strap of my bag (where I've been collecting all of my enamel pins)!

The Graphic Novel

This month's box even came with a small graphic novel! So exciting! The artwork is wonderful, and I'm in love with the little creatures (tea dragons) at the bottom. I'll be reading this ASAP!

The Bookmark

A cute, little feather-shaped bookmark came with the box, and included a quote from the featured book. I'll be utilizing this!
The Book
And the moment we've all been waiting for… what newly published book did this month's OwlCrate feature?
Crown of Feathers by Nicki Pau Preto was definitely not on my radar, but how can I not add it to my TBR now? With OwlCrate, we got an exclusively designed cover; they darkened the sky to reflect a night scene in the book when an epic battle takes place, and the title is a beautiful gold rather than silver.
Also, let us not forget the stained edges of the pages! They are so pretty and lavender-colored!  I'm looking forward to this book after reading the description on Goodreads. It came with the feather bookmark, but the letter from the author also featured a map of The Golden Empire on the other side, which could also be a nice bookmark for this novel!
---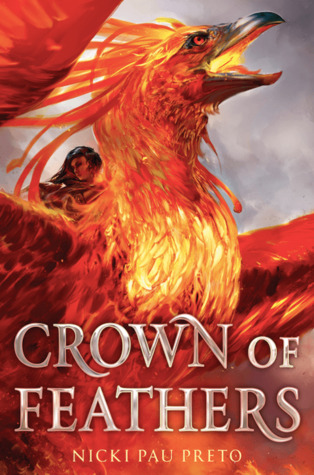 Crown of Feathers
(Crown of Feathers #1)
Author: Nicki Pau Preto
Published: February 12th, 2019 by Simon Pulse
Genres: fantasy, young adult
Format: Hardcover, 496 pages
Add to Goodreads
I had a sister, once…
In a world ruled by fierce warrior queens, a grand empire was built upon the backs of Phoenix Riders—legendary heroes who soared through the sky on wings of fire—until a war between two sisters ripped it all apart.
I promised her the throne would not come between us.
Sixteen years later, Veronyka is a war orphan who dreams of becoming a Phoenix Rider from the stories of old. After a shocking betrayal from her controlling sister, Veronyka strikes out alone to find the Riders—even if that means disguising herself as a boy to join their ranks.
But it is a fact of life that one must kill or be killed. Rule or be ruled.
Just as Veronyka finally feels like she belongs, her sister turns up and reveals a tangled web of lies between them that will change everything. And meanwhile, the new empire has learned of the Riders' return and intends to destroy them once and for all.
Sometimes the title of queen is given. Sometimes it must be taken.
GET A COPY!
Overall Thoughts
This month dished out some awesome things! I truly love the beanie and the umbrella will become quite useful this spring, I'm sure. I'm inspired to finally watch Spirited Away, thanks to the keychain, and I want to dive into the cute Tea Dragon Society graphic novel this instant. I'm also going to use the gem soap this evening, so there's that to be excited about!
Next Month…
March's theme is Murder and Mayhem – doesn't that sound fantastic?! It will feature high quality items inspired from the likes of Nevernight, This Savage Song, Three Dark Crowns, and Game of Thrones! It's also going to include an exclusive travel mug, and the book is a debut that "seamlessly blends fantasy, science fiction and a murder mystery into on epic story!"
See you next month for March's unboxing!
Feeling: ?
Reading: ? Far Far Away – Tom McNeal & listening to Harry Potter and the Goblet of Fire on audio ?
Drinking: green tea
Eating: my wonderful boyfriend made seasoned chicken, wrapped it in a tortilla with brown rice and sour cream and a dash of hot sauce and it is delicious!
Watching: Game of Thrones s2e7